This product is a perfect example of how innovation can be introduced in the fashion industry. People are trying hard to come up with something different, and this piece certainly fits the bill. It will debunk the notion that these fashion accessories are merely a rehashing of the same trends over and over again. This piece truly brings something new to the jewelry world.
This necklace is based on the book series, film, and television series The Mortal Instruments. It's inspired by the Witchlight sand lantern, and as its name implies, it actually glows! Fans of the series will especially love this piece, but anyone will appreciate it for its unique qualities.
Reasons to Purchase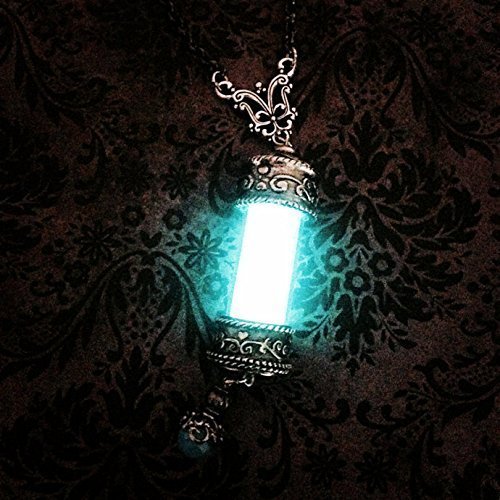 The glow of this necklace depends on the duration of charging, but it lasts for quite a while. The lantern is made of glass and is sealed with epoxy. It contains sand crystals which produce a brighter glowing effect. It is also a bit larger and heavier than other lantern pendants. It's a very unique piece that is very sturdy an won't break easily. It's solid and well-made, but it still has a delicate design, and you'll find that it's well-suited for anyone's style. The lantern necklace comes with a gunmetal rolo chain.
In The Mortal Instruments, Witchlight is a light grey stone which emits pure white light. The concept is to go towards the light by eliminating the darkness, and that concept is reflected beautifully in this pendant. The charging time for this light is fairly fast. It's sure to be loved by any The Mortal Instruments fan. The glow is really appealing and will last for a while before getting discharged. It's highly suitable for nighttime events, where it'll really stand out and get all the compliments.
Great Product at a Great Price
The low price of this necklace is unbelievable, especially because it's a great quality piece. It's the perfect item for a gift, and it will be always a point of attraction on your neck. This pendant is a great melding of technology and jewelry design. You won't find another pendant like this one, so order it now and add a great statement piece to your collection, or give a gift to your favorite The Mortal Instruments fan that they're sure to love and cherish.
Check Out Our Other Product Reviews
Did you like this quick product review? Check out the rest of our product reviews including this Isabelle Lightwood replica necklace review. If you're a fan of The Mortal Instruments, we're sure you'll love this product too!