Every true fan of the series The Mortal Instruments wants to collect the weapons that the Shadowhunters use. While several Shadowhunter weapon replicas have been released, the Whipserpent snake bracelet may be the best of all.
Who is Isabelle Lightwood?
Isabelle Lightwood uses a whip made of golden electrum wire as her main weapon. It is a tool traditionally used on other creatures to provoke fear or pain. It's also used to wrap around something and exert pressure, drag it, or yank it away.
Isabelle can disguise her weapon with a glamour. This makes it appear in the mundane world as a long bracelet, gold and silver rolled around Isabelle's arm when it is in disuse.
Now, in real life, the bracelet you can buy is made of high-quality metal, which makes it heavy. One of the most surprising aspects of it is that it remains malleable despite its weight. This is a fully moldable bracelet that adapts to any shape that the wearer wants to give it. Although at first glance it's a piece of jewelry, fans know that it's designed to emulate Isabelle's whip, and for this reason, the bracelet also acts as a whip: be careful or you can hurt yourself.
When you're wearing this bracelet, it'll become the main feature of your outfit attracting glances and all kinds of comments. So, when you use it, be ready to become the center of attention and feel like a true shadow hunter. Add on a fancy pendant as well if you really want to get people talking!
The Perfect Accessory for Every True Fan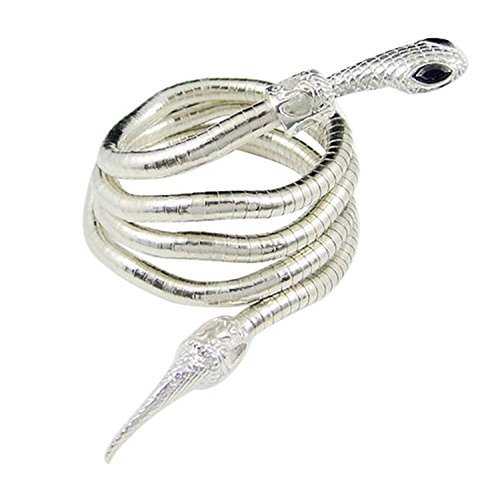 This product is made with high-quality materials, and so you'll be getting a good product. The design itself is also well-thought out. It functions well and is beautiful. The head of the snake has lovely detailing, although there is a slight risk that the eyes could fall out with excessive wear. There's a magnet that makes sure it doesn't slip: another aspect of the thoughtful design.
The Electrum Whipserpent Snake Bracelet is not the type of accessory that you would use for any occasion. It's very long and flashy, so it's definitely for dressing up, and it'd be a great addition to your cosplay. It's not identical to the one seen in the television series, but it's inexpensive and well-made, so if you're a fan of The Mortal Instruments, and especially if you're a fan of Isabelle Lightwood, you won't regret your purchase.