Here's the perfect accessory for the fans of The Mortal Instruments: a pen that is a full-sized stele replica. With this awesome toy, you can draw & reveal hidden runes using UV light. This stele replica comes with a UV pen and light, a black pen nib, and a rune guide.
This cool pen is made of plastic but it's well-constructed and looks authentic. Even though it's just a little bigger than a normal pen, it's also very lightweight, so it can be carried around just like a normal pen for everyday use. It's perfect for Halloween, cosplay, or as a gift for a fan of the books and TV series.
The pen comes in a nice package, and it contains two types of ink. It arrives set up with the invisible ink, but it can be changed out for the black ink easily. The way the pen works is very simple. One half of the tip is ink and the other is illuminated with a bright blue UV light that reveals the secrets written with invisible ink.
The cost is not very high: for just a few dollars you get a product of very good quality. However, after sitting around for a while after manufacturing, there have been several cases in which the pen has arrived with dead batteries.
Jace's Stele Pen is Not Just for Fans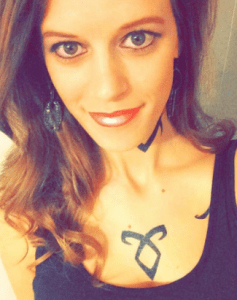 While fans of The Mortal Instruments will love this pen, it's a fun toy for any young person, whether or not they know the series. In fact, this pen could spark their imagination and become a great introduction to this unique fictional world.
The Mortal Instruments is a book series that is part of the larger franchise The Shadowhunter Chronicles. In this saga, the Shadowhunters face two wars: the first against a Shadowhunter transformed by envy and power, and the second against their Shadowhunter brethren who have been corrupted.
Steles are the tools used by Shadowhunters to draw runes onto their skin, weapons, and other materials. These secret runes make themselves and their tools stronger to help them face their enemies.
If you don't know this series, it's time for you to discover this unique and expansive world. Once you've experienced it for yourself, go buy this unique pen for your collection. You'll definitely be happy with your purchase. Try checking out some of the other items we review on this, such as this gold snake necklace, as well!