If you're on the lookout for a beautiful bracelet, you've undoubtedly got a wide variety of options. Whether you're buying something for yourself or as a gift, you want to find the best option in your price range. XOCON is a brand that has proven its worth. Their products are all durable and eye-catching.
Why You Need This Bracelet
This particular bracelet features the angelic power runes from The Mortal Instruments series of fantasy novels. These runes are used by the Shadowhunters to enhance their weapons with powers that help them defeat demons. Fans of the books and the film will recognize them immediately and be drawn to this unique bracelet. They'll want to keep these runes with them all the time and enjoy their beauty and power.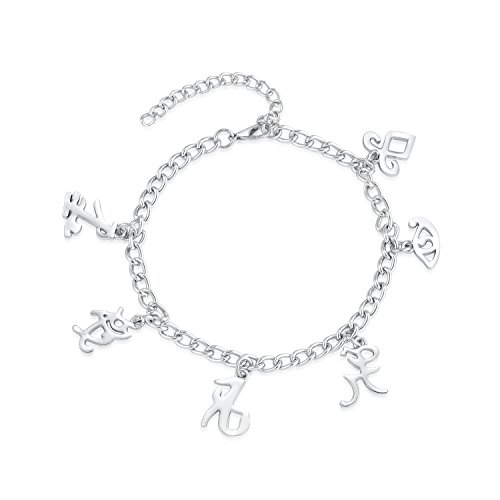 This lovely bracelet lets you have your own angelic runes to help you feel empowered. It comes with an extra length of chain which can be removed if you have a smaller wrist. The bracelet is made up of interconnected runes. It's suitable for daily wear, and you won't have to worry about the quality: It's 100% metal alloyed with zinc and is suited for any woman, regardless of their personal style. Every time you wear it, it will make you feel like you're at the top of the world and provide you with unmatched confidence. This product comes with a beautiful bag or box, making it especially suitable as a gift for a loved one.
Whether you're a fan of The Mortal Instruments or you're just looking for a unique piece of jewelry, this angelic power rune bracelet will be perfect. It's a great high-quality piece at affordable prices, so you can't go wrong. This bracelet will complement any outfit and may just become your favorite signature piece.
Specifications
XOCON The Mortal Instruments City of Bones Inspired Angelic Power Rune Symbols Bracelet is a remarkable product that surpasses many other bracelets in its price range due to its unique design and lasting durability. The manufacturing and assembly are top-notch. You'll have no problem at all wearing this piece at any time because it's lightweight and adjustable. The bracelet is 20 cm at its longest, and its shipping weight is a mere 27 grams.
You'll have no shortage of compliments with this unique piece. Fans of The Mortal Instruments will appreciate the angelic power runes, and everyone will enjoy the style of this special bracelet.