Necklaces are the perfect accessory for many occasions. A well-selected necklace can be the most striking element of your outfit or just a detail that adds a delicate touch to an outfit, making it subtly sparkle. There are many types of necklaces, from bold to delicate, the choice depends on the style of each woman. There are some pieces that are classic and dependable, a solid choice for any woman, and this piece fits in that category.
The Angelic Power Rune Necklace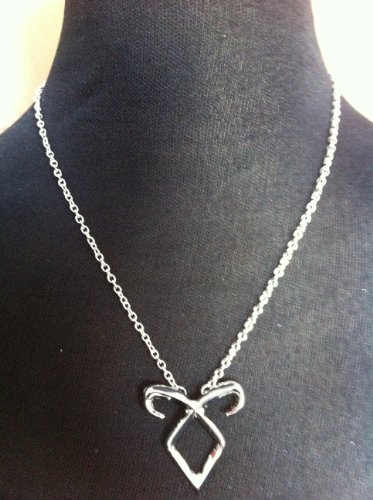 This necklace is inspired by The Mortal Instruments City of Bones. In the series, the angelic power rune is used to impregnate weapons with angelic magic, which prevents demons from regenerating. Shadowhunters use these runes on their weapons to make them more effective against demons.  But enough about fiction: let's talk about fashion. This beautiful necklace is made of an alloy that makes it sparkly and shiny.
The Angelic Power Rune Necklace is a simple accessory that goes with almost every outfit. It may not always be the star of your look, but it will always look fantastic on your chest or on your blouse as a delicate detail. This magical piece can be an everyday accessory, helping you express your personality in any outfit. Just remember to be careful with its sharp tip.
Now, it's not all about the looks. When you buy something, you want to make sure it's worth it. Although it's true that the price is quite accessible, and this price range sometimes means less quality, in the case of this necklace the quality is guaranteed. The story behind this necklace, angelic power, and protection, makes it a symbol that can help its wearers feel empowered. This beautiful necklace is suitable for a wide range of women of many ages. Anyone who is inspired by The Mortal Instruments series will appreciate this piece, and those who don't know the books or show will still find it delicate and beautiful. We consider this necklace a beautiful versatile accessory.
Grab Your Own Angelic Power Rune Necklace
Given the wide spectrum of events and dresses it's suitable for, as well as its affordable price, it's a great buy. This angelic power rune necklace would be a perfect birthday, Christmas, or Valentine's gift for any young woman, whether they're fans of The Mortal Instruments or just fans of beautiful jewelry.